Our house in Fiskebäckskil

Fiskebäckskil
Fiskebäckskil is an old and genuine shipping community with narrow sidestreets and houses decorated with fancy carpentry work. In the middle of the 19th century the inhabitants gave up fishing and became freight-skippers instead. They built themselves big and fine houses and were thus prepared when the seaside resort era started at the turn of the century. Fiskebäckskil became elegant and fashionable and still host many summer inhabitants from our capital. The artist Carl Wilhelmsson originated from here and his studio is preserved and inhabited by his relatives. Reproductions of his paintings can be seen at the Gullmarsstrand Hotel on the waterfront. The food is good and the bar upstairs makes you feel like you are on a ship's bridge at night-time. Stroll the town's narrow lines for an hour or two, enjoy the picturesque car-free surroundings and a meal at "Captain Sture", a restaurant with oldfashioned fishing interiors nearby the church (built 1772). For an extensive night-life, take the 10 minute ferryboat to
Lysekil
.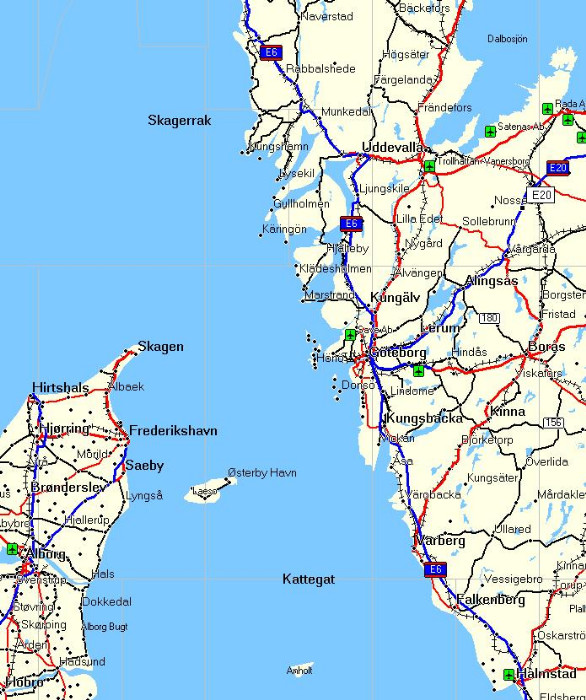 Fiskebäckskil is located 100 km north of Gothenburh. It's about one hour drive from Gothenburg.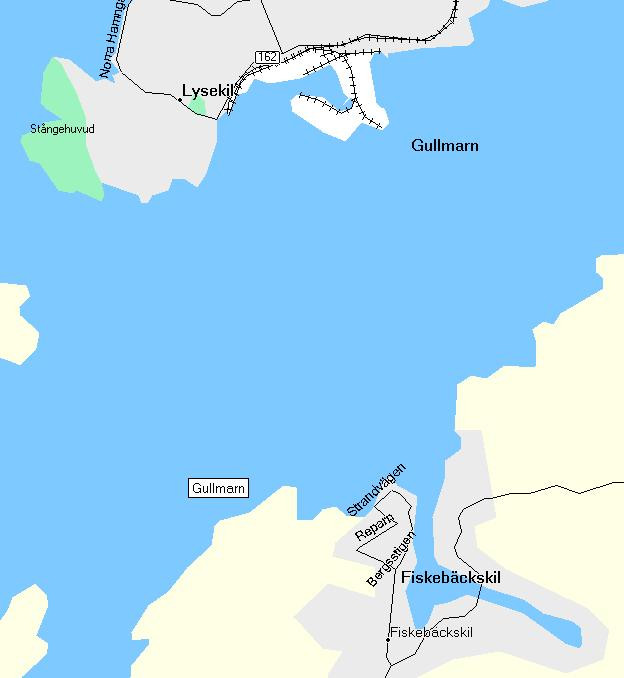 Our house is located at the "F" in Fiskebäckskil. The bay is very well protected against wind and sea.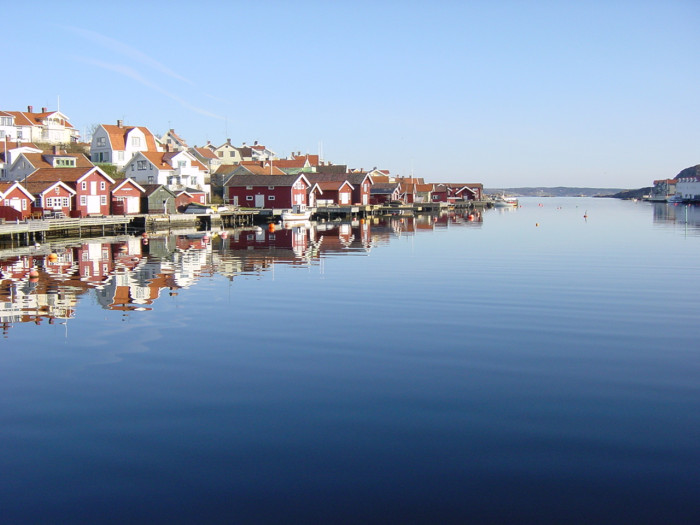 Our house is located just at the left of this picture. The town visable in the end of the bay, is Lysekil. There is a ferry
that takes you over to Lysekil in 20 minutes.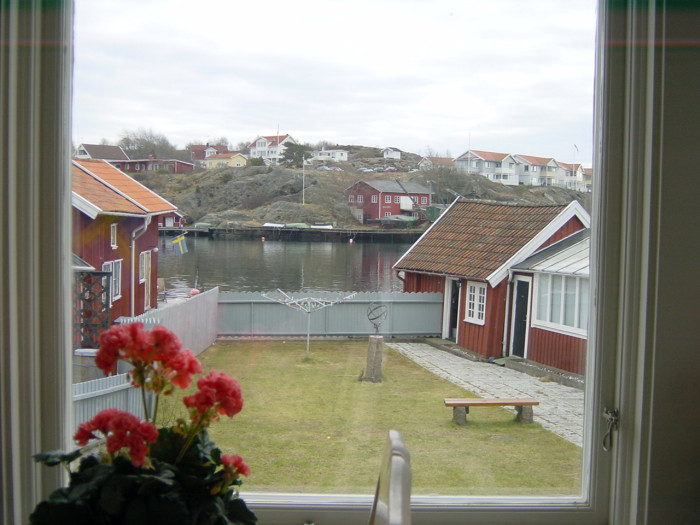 This is a picture taken from the dining room. To the right is the boat house and a guest house.
To get to the pier, you have to walk through the boat house.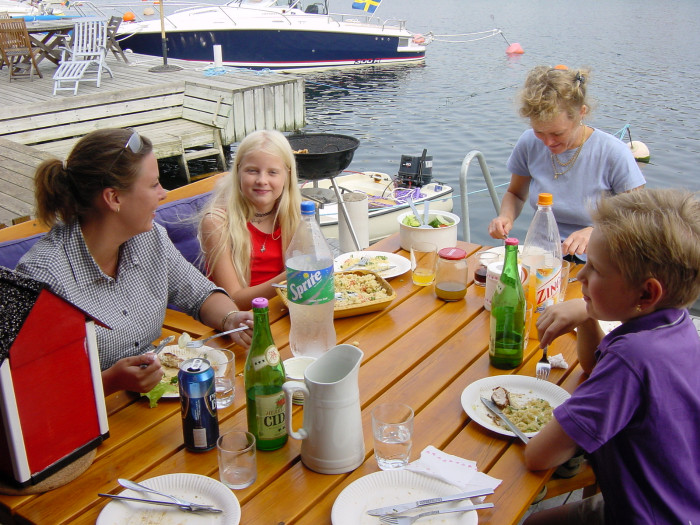 Dinner at the pier, there are chairs and table in the boat house.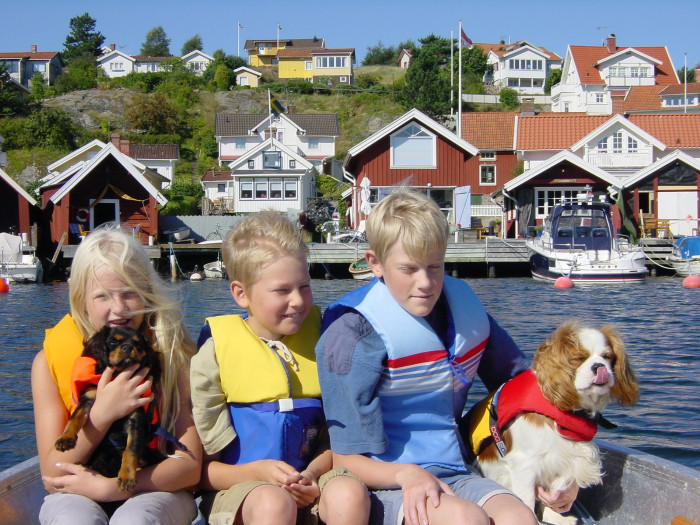 In the back, you see our white house and the boat house to the left.
In the basement of the house there is dining room, kitchen, wc and a sleeping room (double bed). At the second floor there are
2 bedrooms with 4 beds. In the guest house there are 3 beds. In the basement there is a shower and washing machine.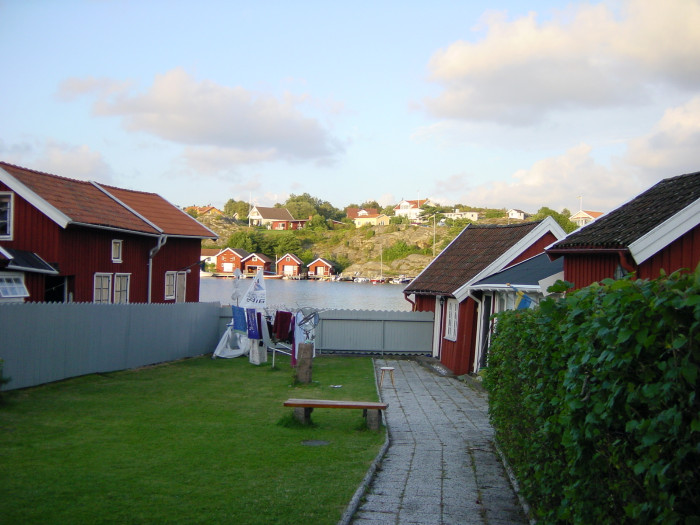 The place is sorounded by a fence. This is good during the tourist season. There are several hundreds of boats/ships passing the bay
during a nice day in July.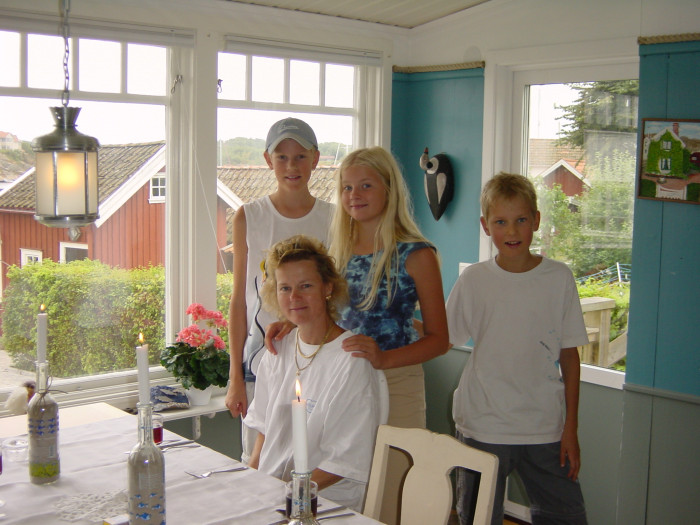 Dining room. The guest house in the background.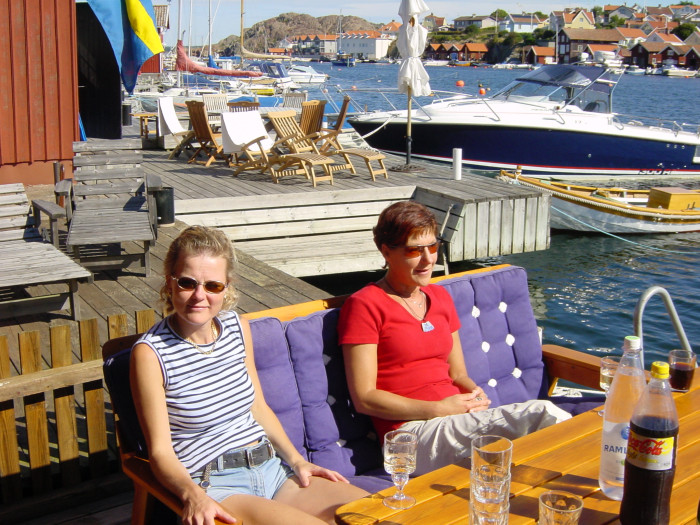 Lunch at the pier. The neighbours are quite close, but very nice people.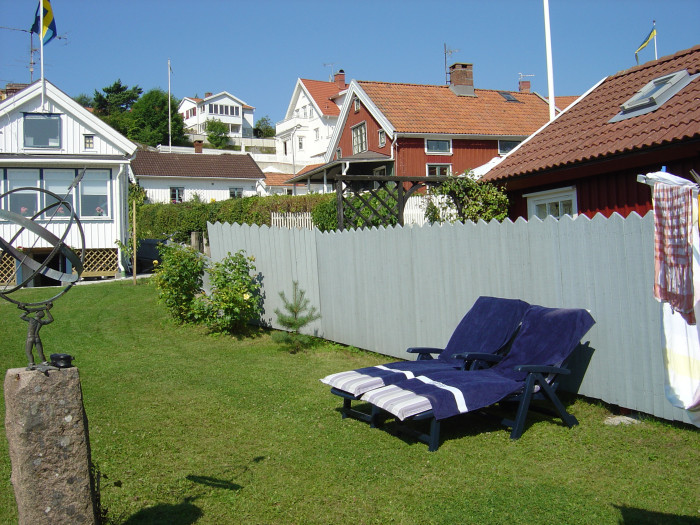 Behind the fence you should alway's find a nice and warm place without wind.